Featured
Distributing RFIs
Once your Reviewer has delivered an answer to an RFI, you're able to review it and choose whether to distribute it to your team. From the RFI details page, click "Distribute."

This will bring up an option to choose which project team members should be notified and give any directions to the team about how to proceed. You can also add the email addresses of people not on the project. Everyone on your distribution list will be emailed a PDF that includes the RFI, along with all details and references. Click "Distribute" to finalize this step.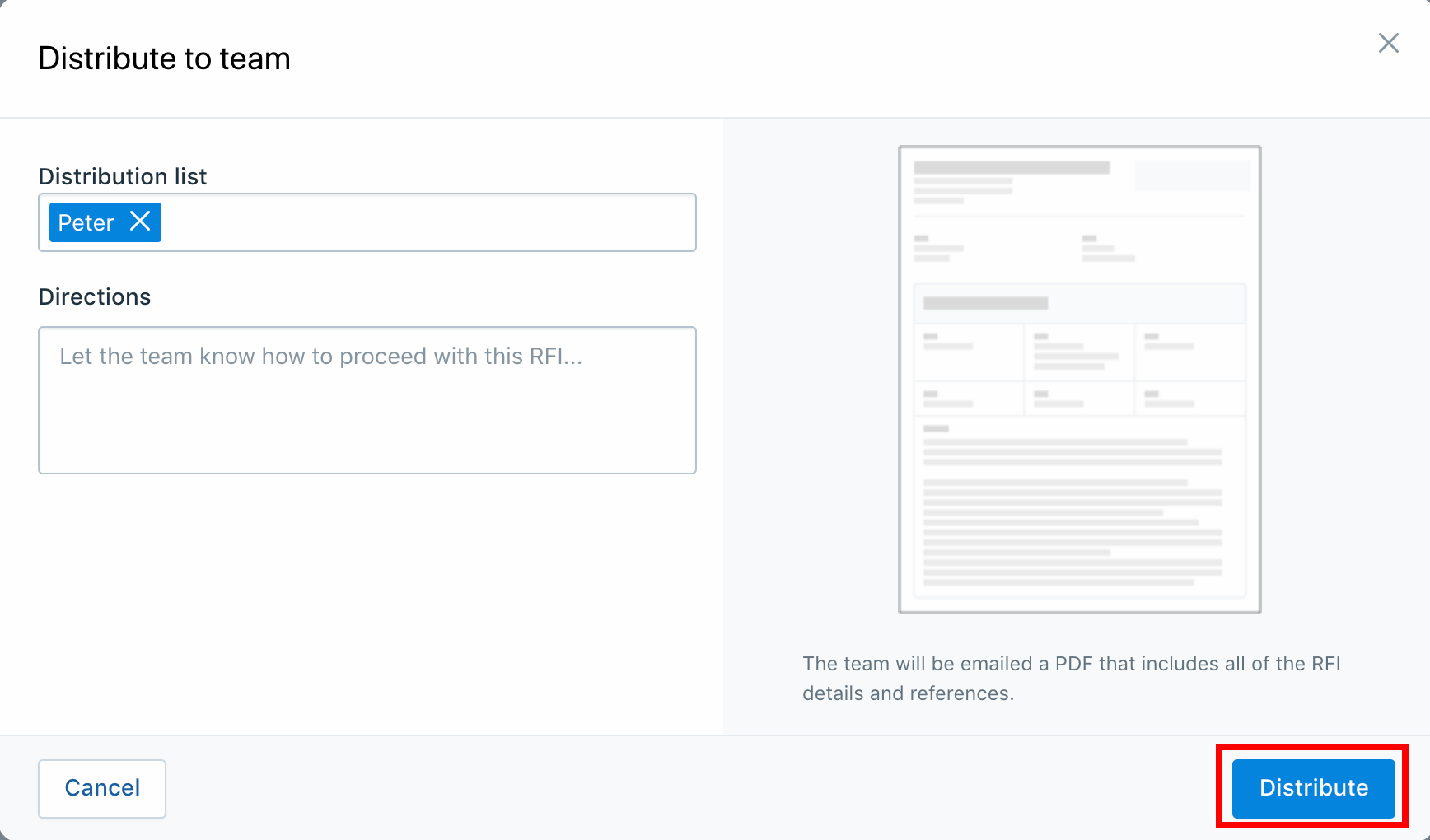 Returning an RFI to the Reviewer
If the answered RFI is in need of clarification or more context before it can be distributed, you may return the question to the previous step.

A popup will appear so you can explain the reason for the return and include references if needed: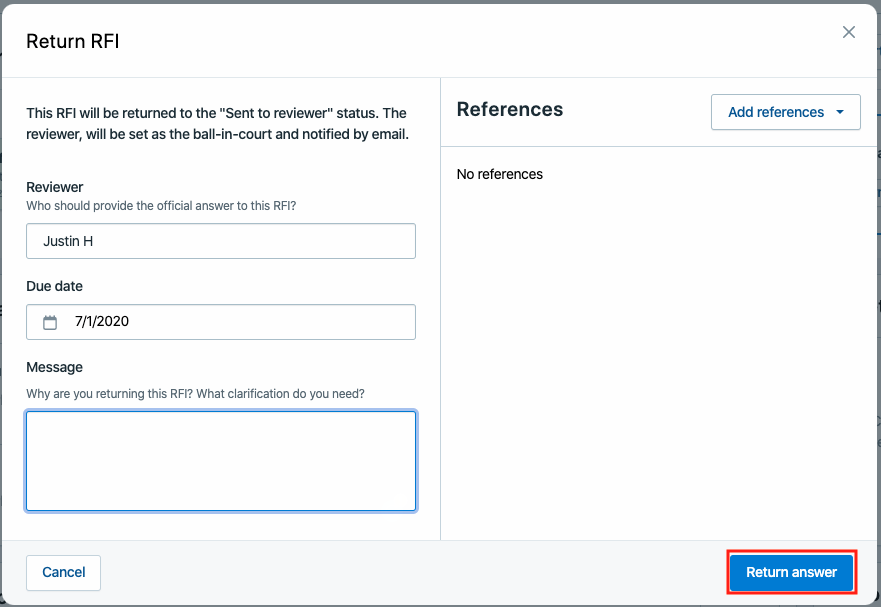 After clicking "Return Answer" the RFI will be returned to the "Sent to reviewer" status. The reviewer will be set as the ball-in-court and notified by email.

The RFI will be noted as "Returned" in the dashboard view.
Exporting RFIs
You're able to export both PDFs of individual RFIs and a CSV of your entire RFI log.
To export an individual RFI, open the RFI from your RFIs page and select "Export." This will automatically download a PDF of the selected RFI.

To export a CSV of your entire RFI log, open your RFIs page and select "Export all." This will automatically download a CSV file of your RFIs, including activity details, project members involved, and question and answer information.

Deleting RFIs
If you need to clear an RFI from the RFI log completely, you can delete it. This is a permanent action that will remove all data associated with an RFI from your project. Select the RFI you'd like to delete from the RFI page and then click "Delete."

You'll then see a confirmation screen that asks if you'd like to delete the RFI. If you're sure you want to delete it, check the box that says "I understand this action is permanent" and click "Delete."
Voiding RFIs
If an RFI is no longer accurate or you otherwise need your team to ignore the information included, you can void an RFI. Select it from your RFI page and then click "Void."

Next, you'll see a confirmation screen where you can indicate who should be notified that the RFI is void and include any notes to your team. Once you void an RFI, it will stop moving through the workflow and all history and details will be saved. The RFI will still be visible from the log. However it will appear as voided on your log of RFIs, and its number cannot be reused.
Click "Void" to void the RFI.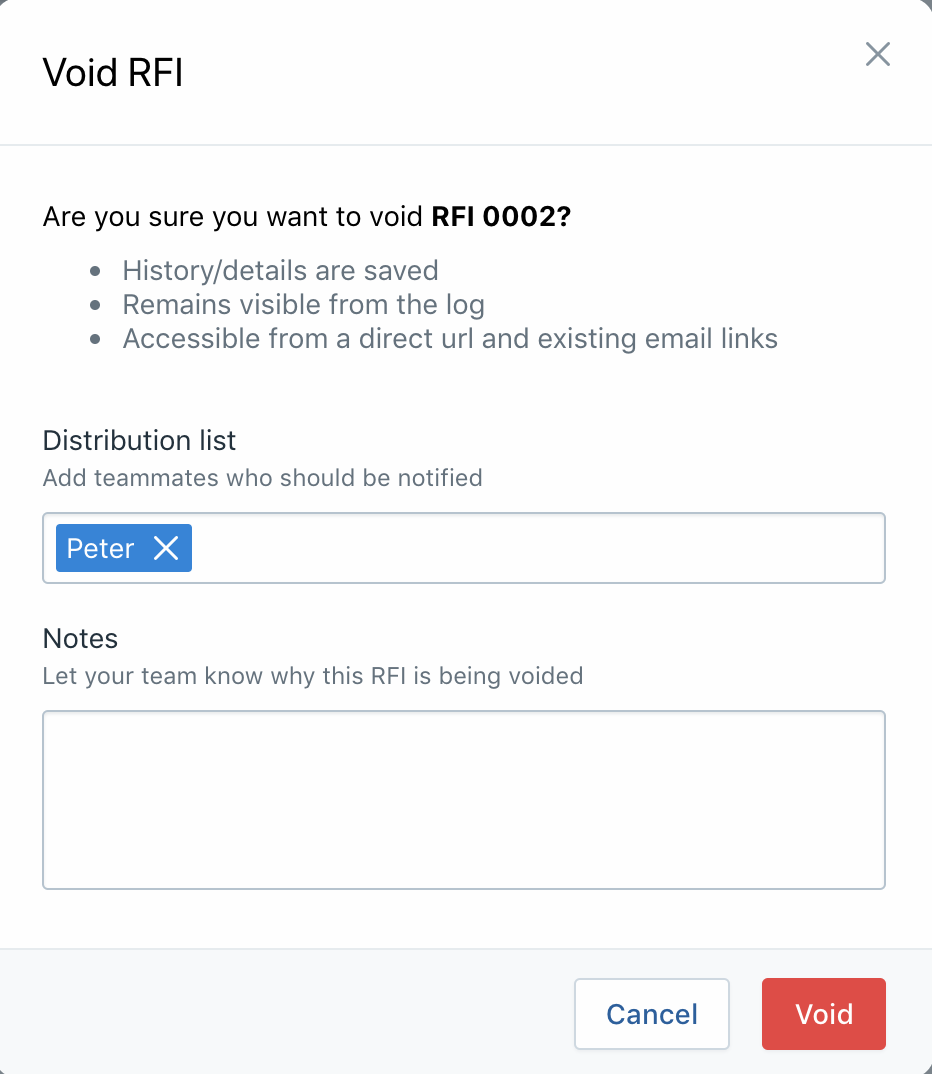 Renumbering RFIs
Once an RFI has been sent for review, it's possible to renumber that RFI to any unused number. Open the RFI you'd like to renumber for the log page and select "Edit" from the information panel.

In the editing drawer that opens up, input a new number. This needs to be a number that isn't already currently being used by an RFI in your project. Finally, click "Save."