Featured:
Accessing the Sync Log
Help! I'm getting a sync error!
Resolving Sync Errors on iOS
Resolving Sync Errors on Android
Tips for Downloading Projects
Force Refreshing My Project
Accessing the Sync Log
Your mobile device's sync queue allows you to monitor the progress of uploads (items from the device syncing to the PlanGrid cloud), and downloads (project information being downloaded from the cloud to the device). If you are experiencing a stalled download or a sync error while uploading markups, you will need to know how to access the sync log on your device.
1. Open the mobile app to the main projects page.
2. On iOS: tap the cloud icon in the lower left corner. On Android: tap the menu button (3 vertical dots OR physical button, depending on model) and then choose "Sync status".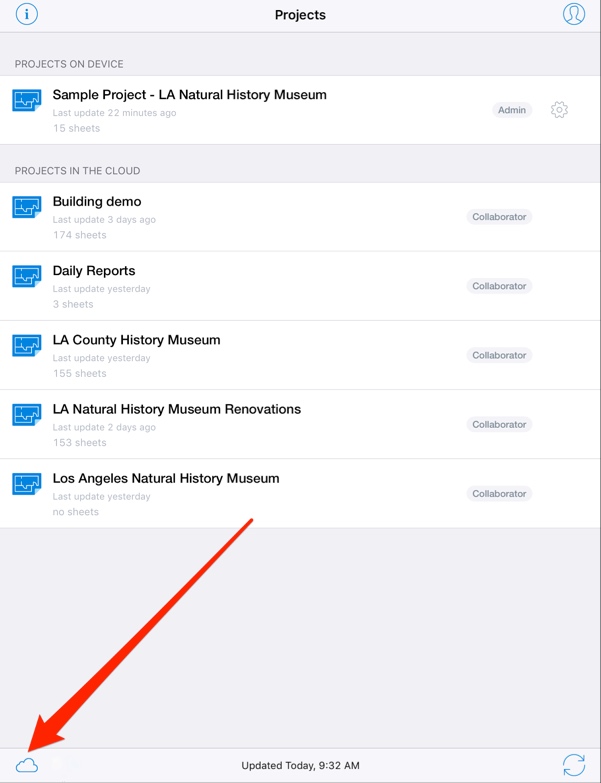 iOS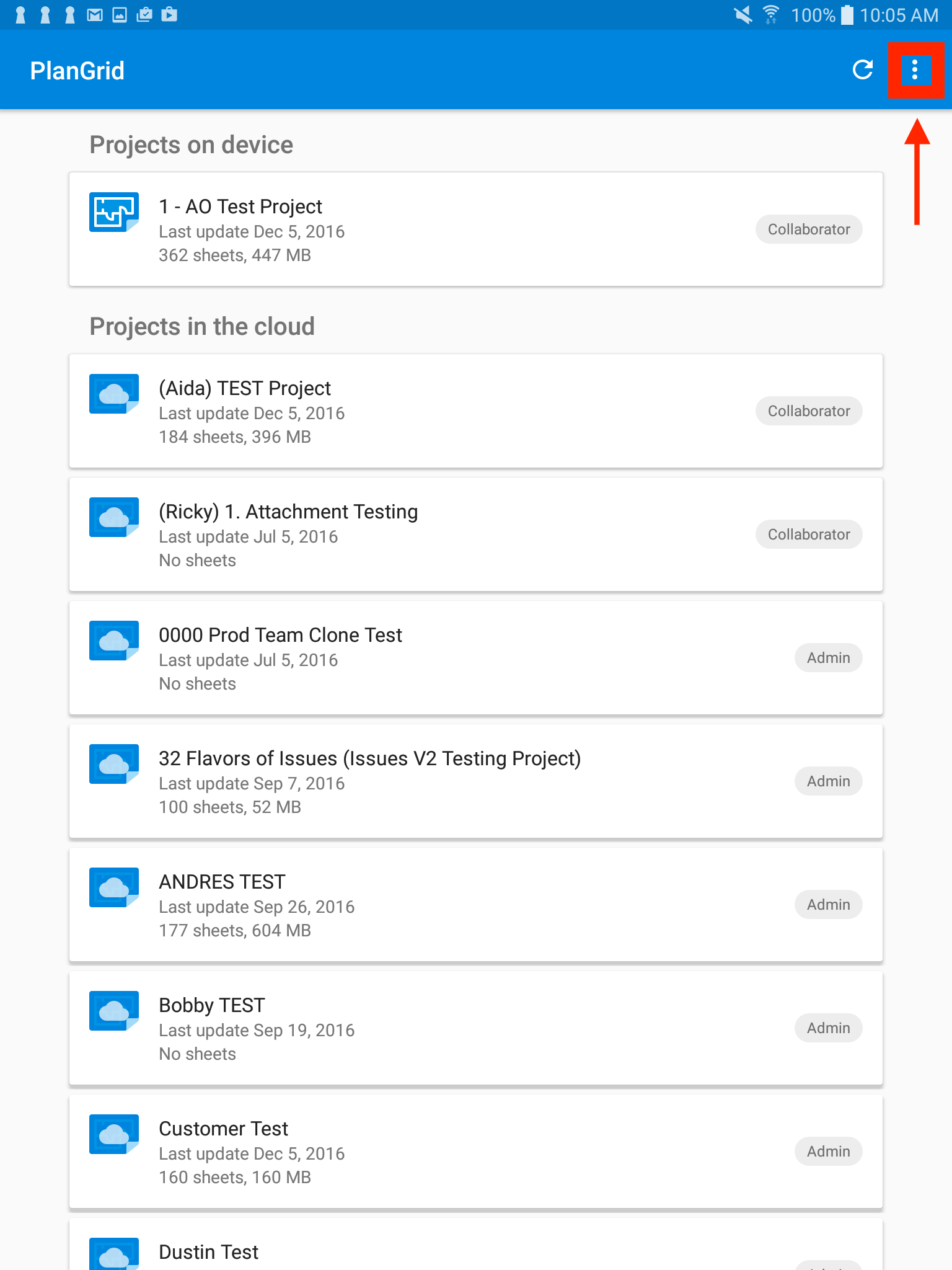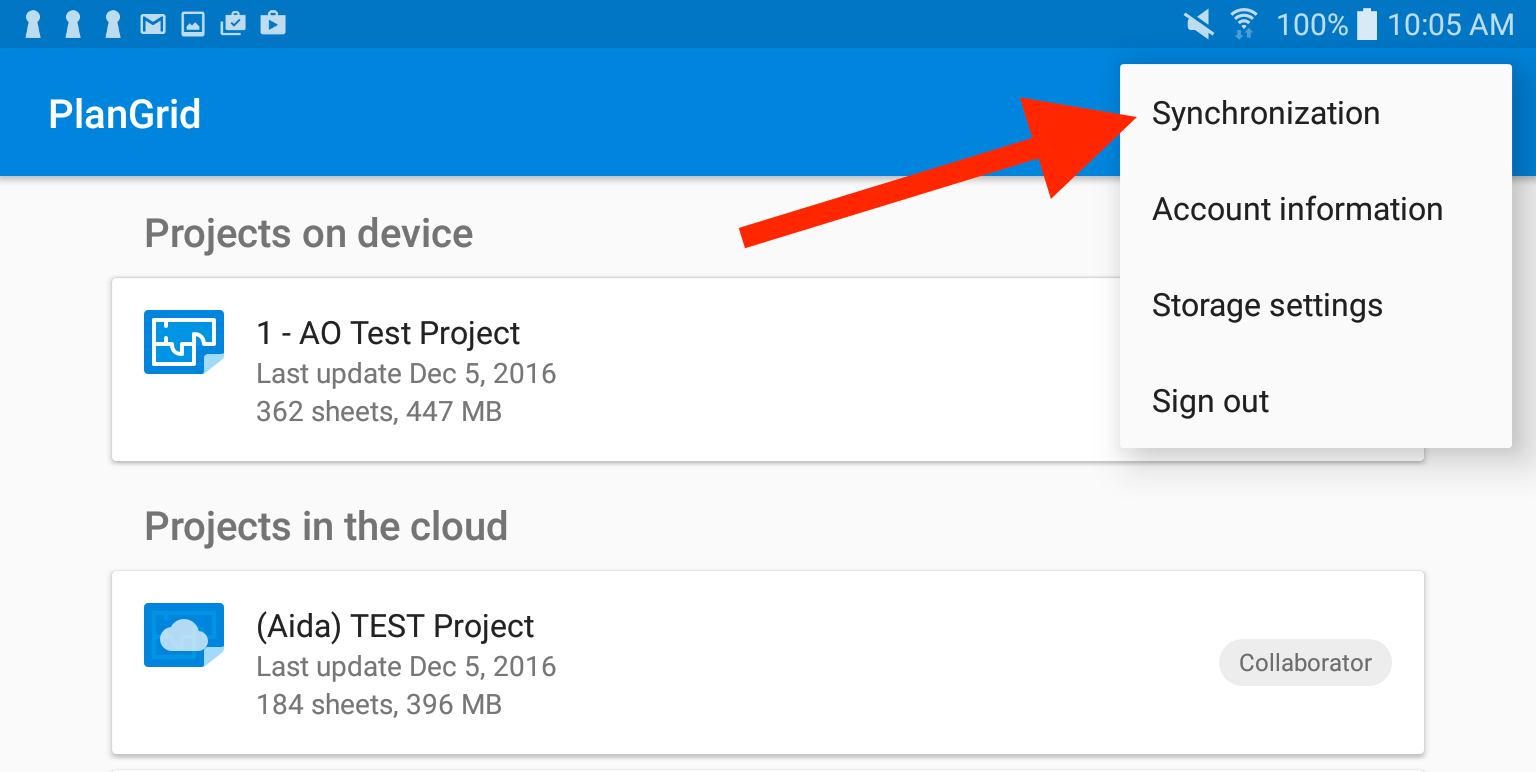 Android
This is the synchronization queue which shows the status of individual sheet, document, and data downloads to your device, as well as the status of uploads from your device to the PlanGrid cloud. If you have made changes to the project on the device while offline, they will queue up here until an internet connection is restored, at which time they will sync to the PlanGrid cloud.
Important: If you have items in the sync log waiting to sync to the cloud, do not log out of the PlanGrid app until after those items have synced. Logging out of the PlanGrid app while items are waiting to sync will clear the sync log and result in lost markups.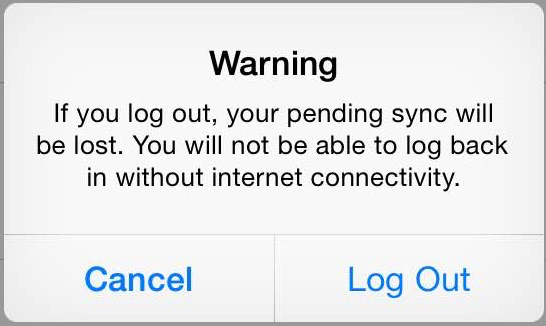 Help! I'm Getting a Sync Error!
If your markups are stalled, and not syncing with the website, you may have synchronization problems which are reported in your device's sync queue.  Below is how to clear them on iOS and Android. 
Note:  Contact support@plangrid.com if you need to clear more than two items through this process.  This should be a rare occurrence when using our service, and you should report any repeated or prolonged sync errors to PlanGrid Support.
Resolving iOS Sync Errors
​
1. Follow the steps above to access your sync log on your iOS tablet or phone.
2. This is the synchronization queue which shows the status of an individual sheet, document, and data downloads to your device. Please click on 'Uploads', followed by the project name with the red exclamation mark.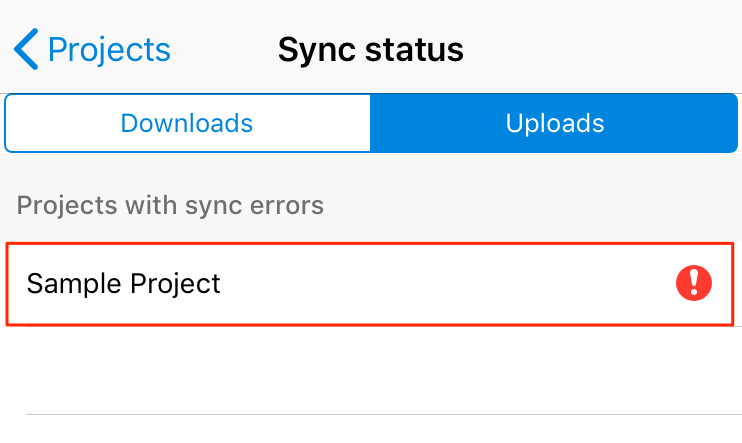 3. Go to the very 1st item at the top of the list. This is likely the item that is causing the sync error. There should also be a blue and red button already displayed next to the annotation description.
Please tap on 'retry' a few times to see if it will sync through. 
If there is no success in retrying, please tap 'discard' to remove the item.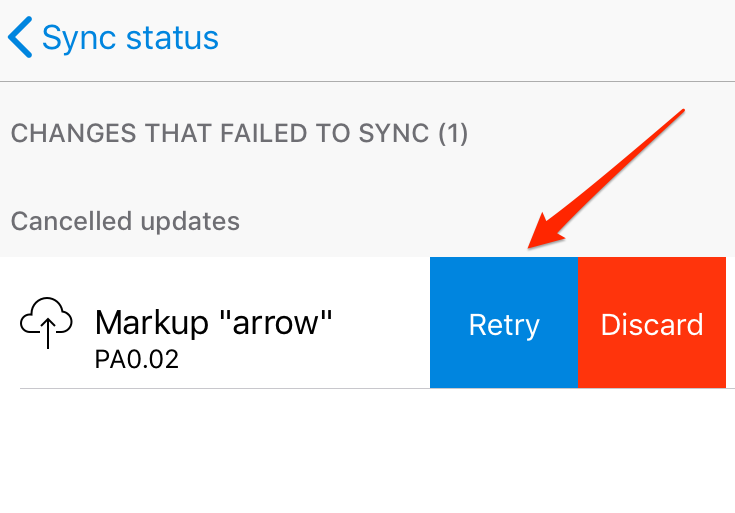 ​4. Repeat with the next item down if syncing doesn't resume. Once the project has fully synced and the sync log is empty, follow the instructions below to perform a forced refresh. This will ensure that you continue to properly receive updates to your project.
Resolving Android Sync Errors
1. First, tap back until you reach the projects screen.  Then, tap the android menu button, and select "Synchronization" from the menu.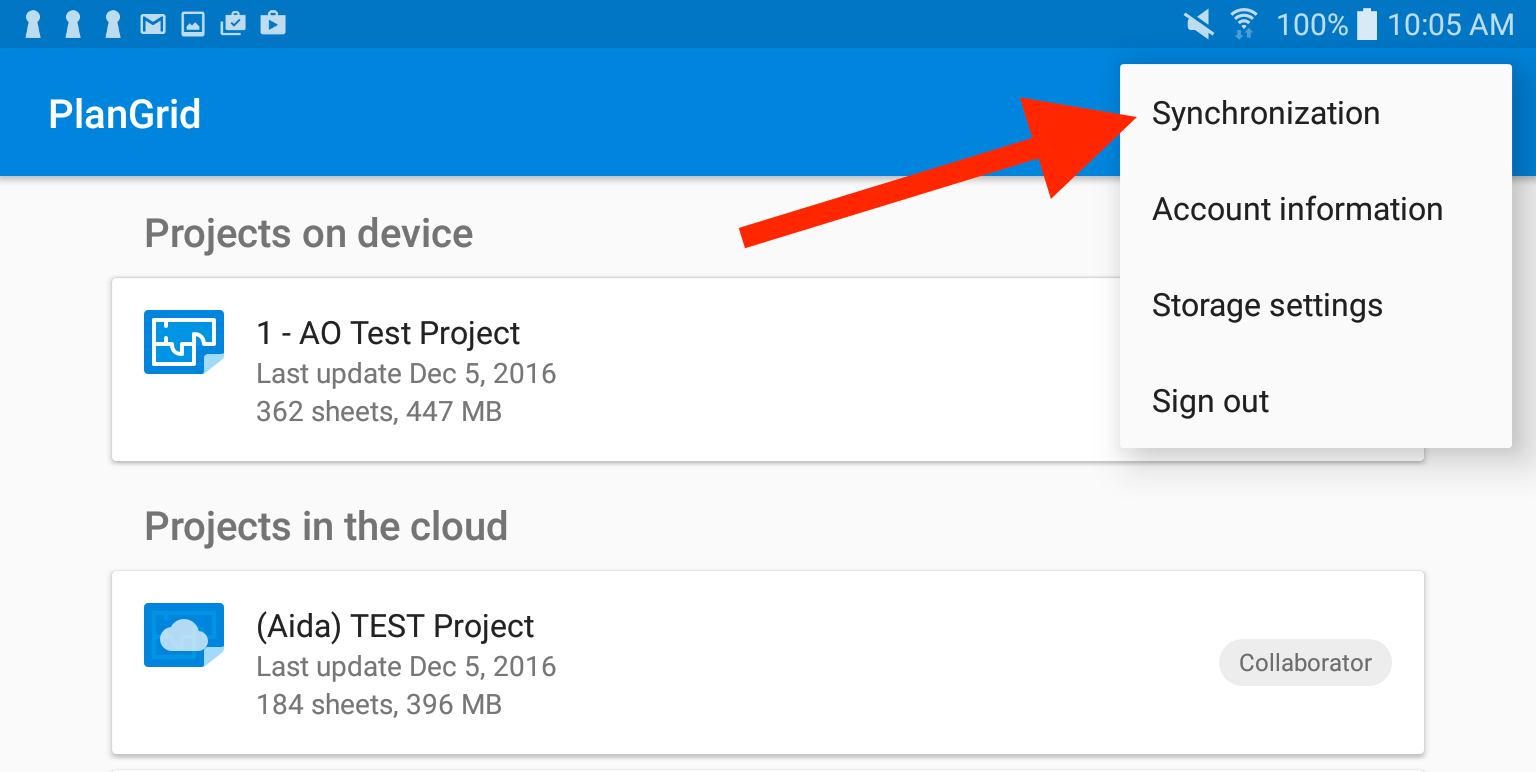 2. Then, tap on "Uploading" and then tap on the item that has failed to upload.  It will only be possible to tap items that show as "Failed".  If there are items in the queue that do not show as failed, then that means they are pending and will upload once a connection is restored.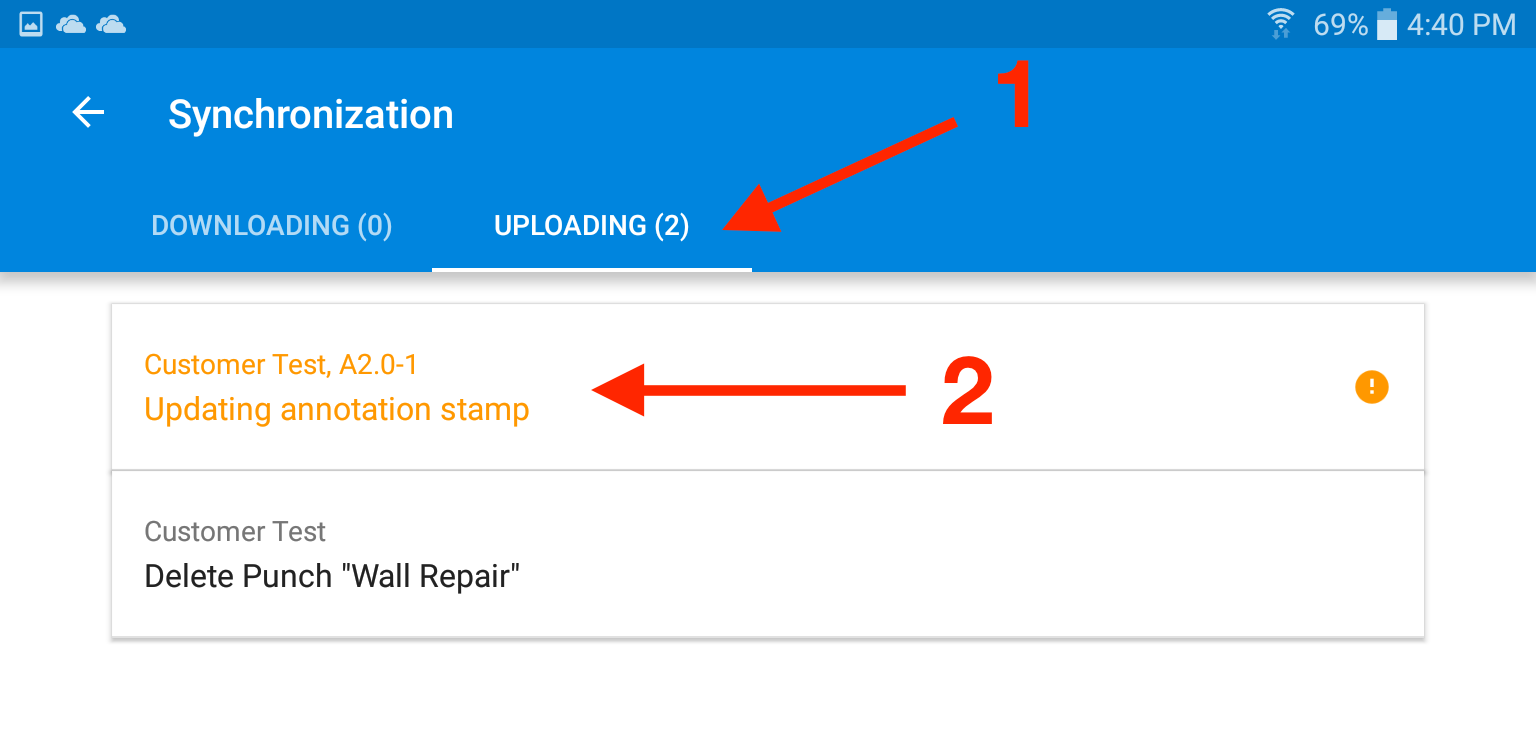 3. Finally, choose to "Discard" the failed markup.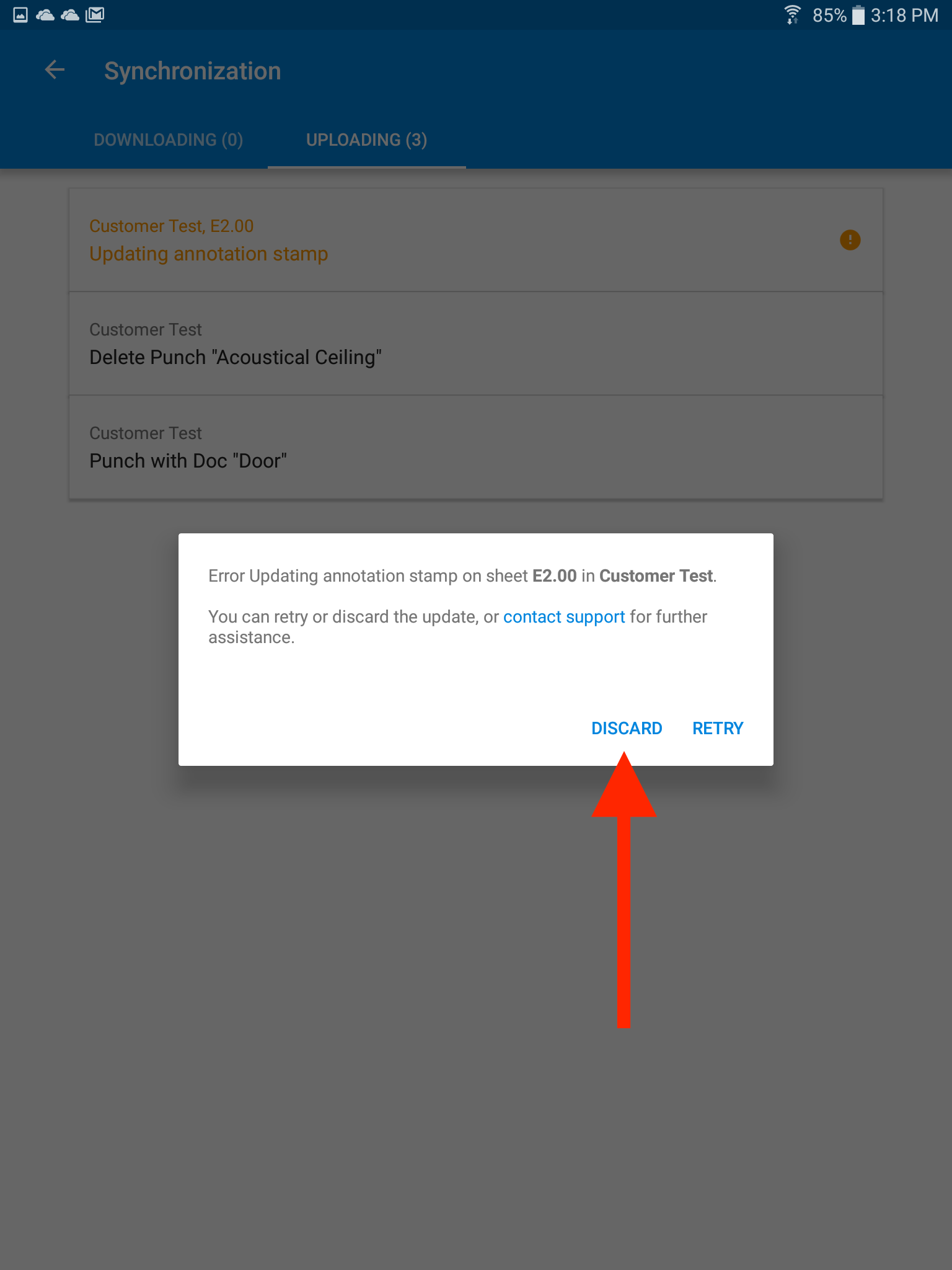 4. Repeat with the next item down if syncing doesn't resume.
Tips for Downloading Projects
Below are some general guidelines to ensure successful project downloading. If you have any specific questions or run into any issues while downloading, feel free to email us at support@plangrid.com.
1. You can only download projects on wifi; cellular connections are not strong enough and will result in incomplete downloads.
2. You will get the best results on a strong wifi network. Sometimes office wifi can be slower than home wifi because there are more devices on the office network. If you notice that, try to do the majority of your project downloading on whichever network is the strongest and most consistent.
3. On iOS: Downloading will stop if the tablet goes to sleep. If your screen goes black, your tablet has gone to sleep. To prevent that, turn "OFF" Auto-Lock. To do so, go to Settings > General > Auto Lock > Never.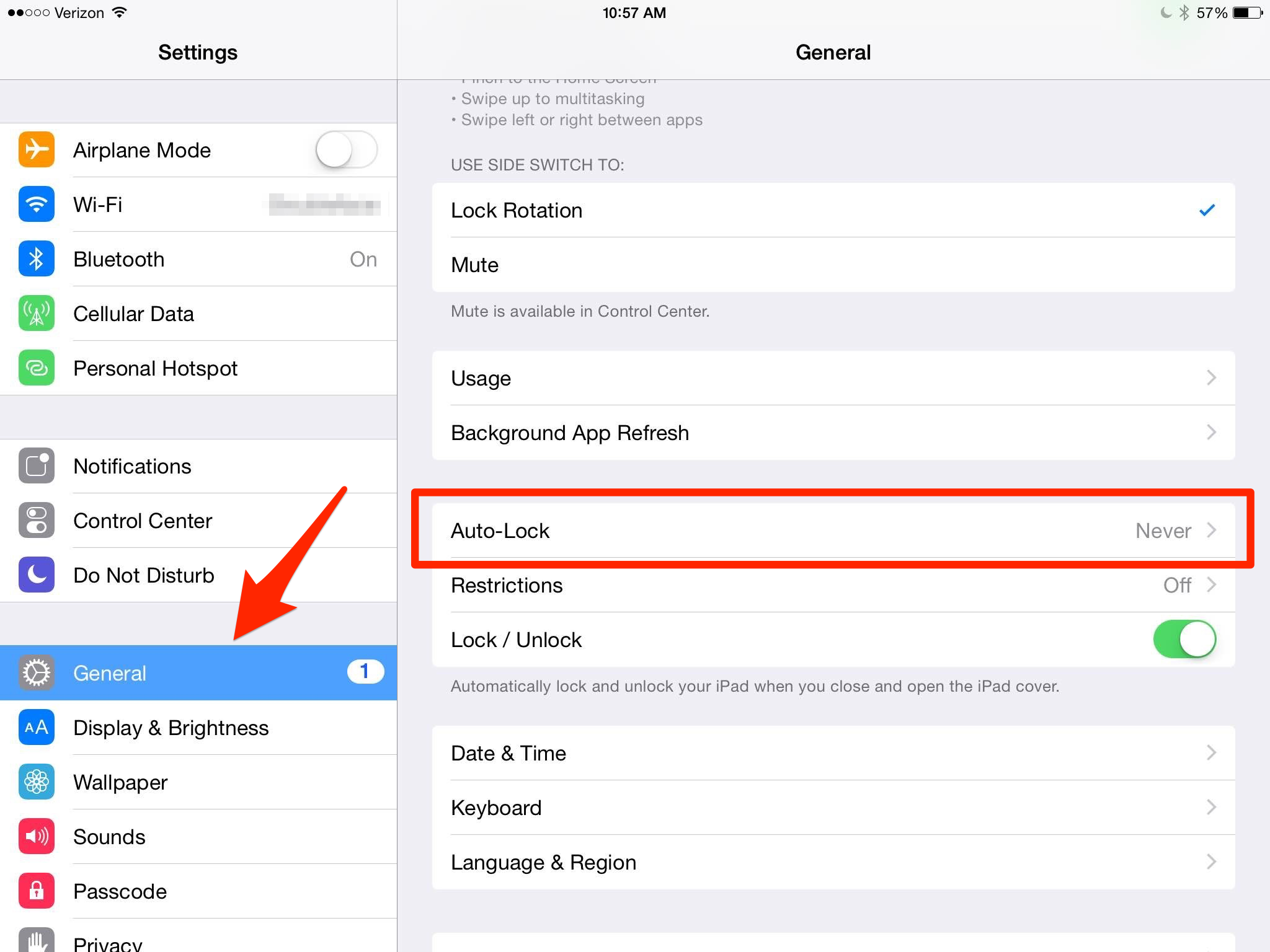 4. On Android: Downloading will continue while the tablet is asleep provided the PlanGrid icon shows in your task bar. If you do not see the icon in your task bar, do not exit the app or sleep the tablet until the icon is present.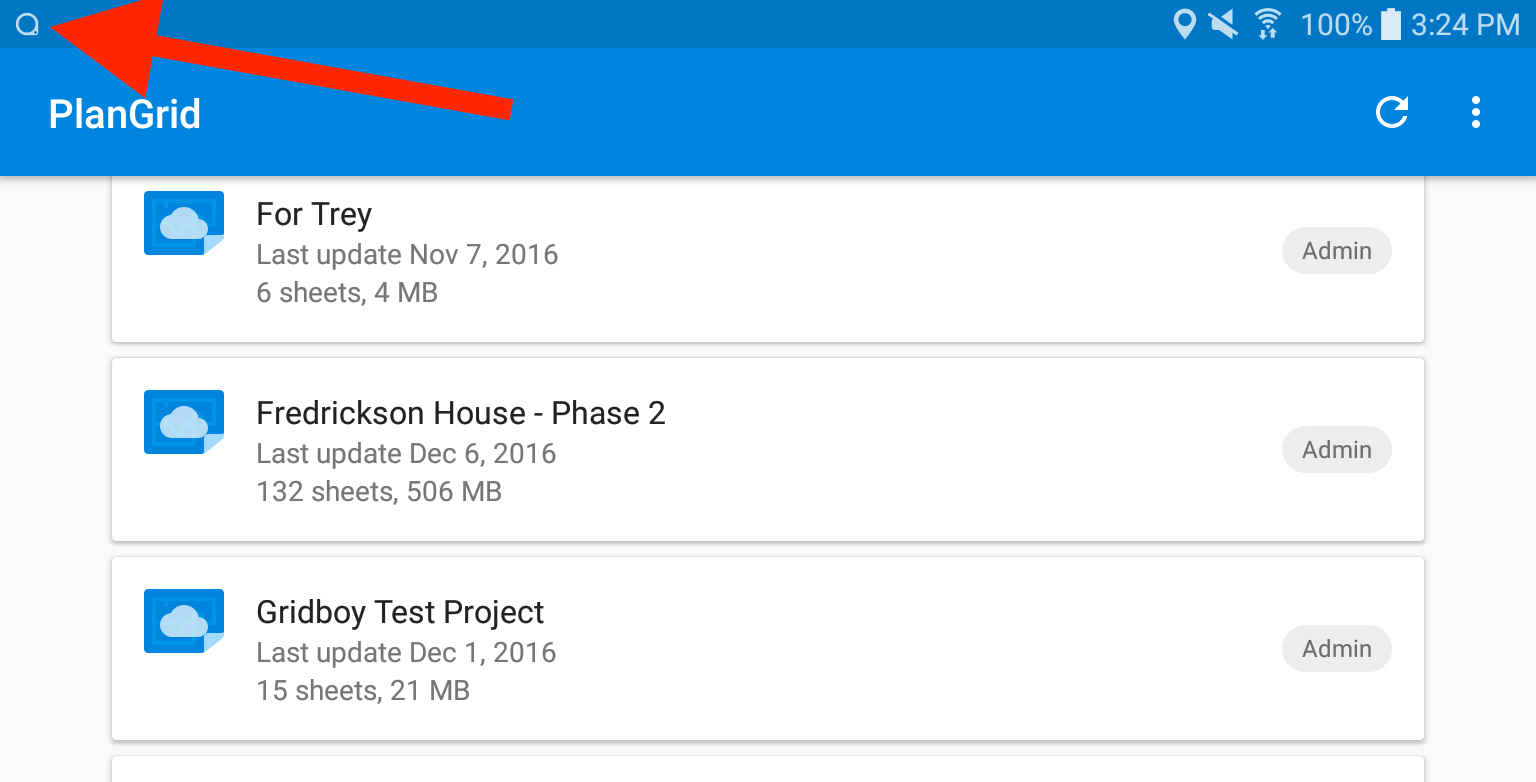 For more information about downloading projects to your mobile device, go here.
Force Refreshing a Project on My Tablet
A forced refresh on your tablet can solve many problems, from not seeing updates to the project, to downloading new documents to your tablet. For more information on updating and refreshing your project, go here.
​
1. On iOS, click the gear icon on the bar.
2. Tap "Force Refresh" to force a refresh of all data on the project.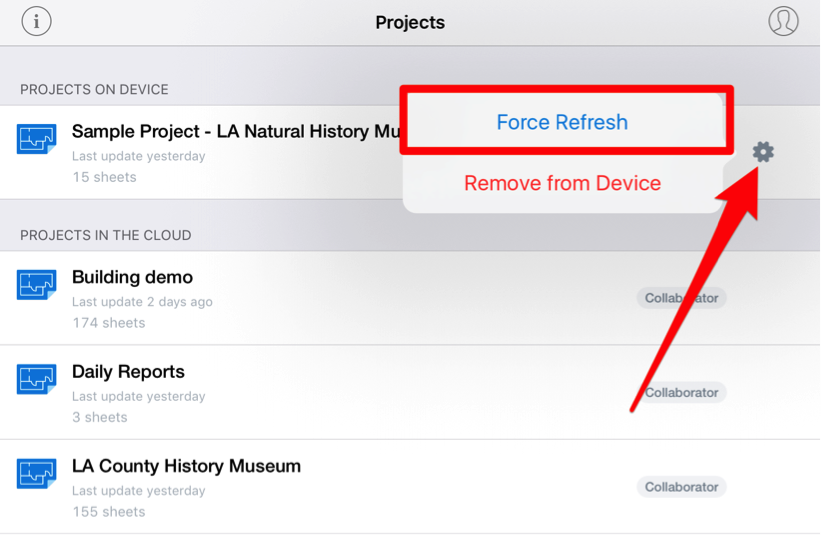 ​For Android, tap and hold on the project name, then remove the project from the device and then re-download it.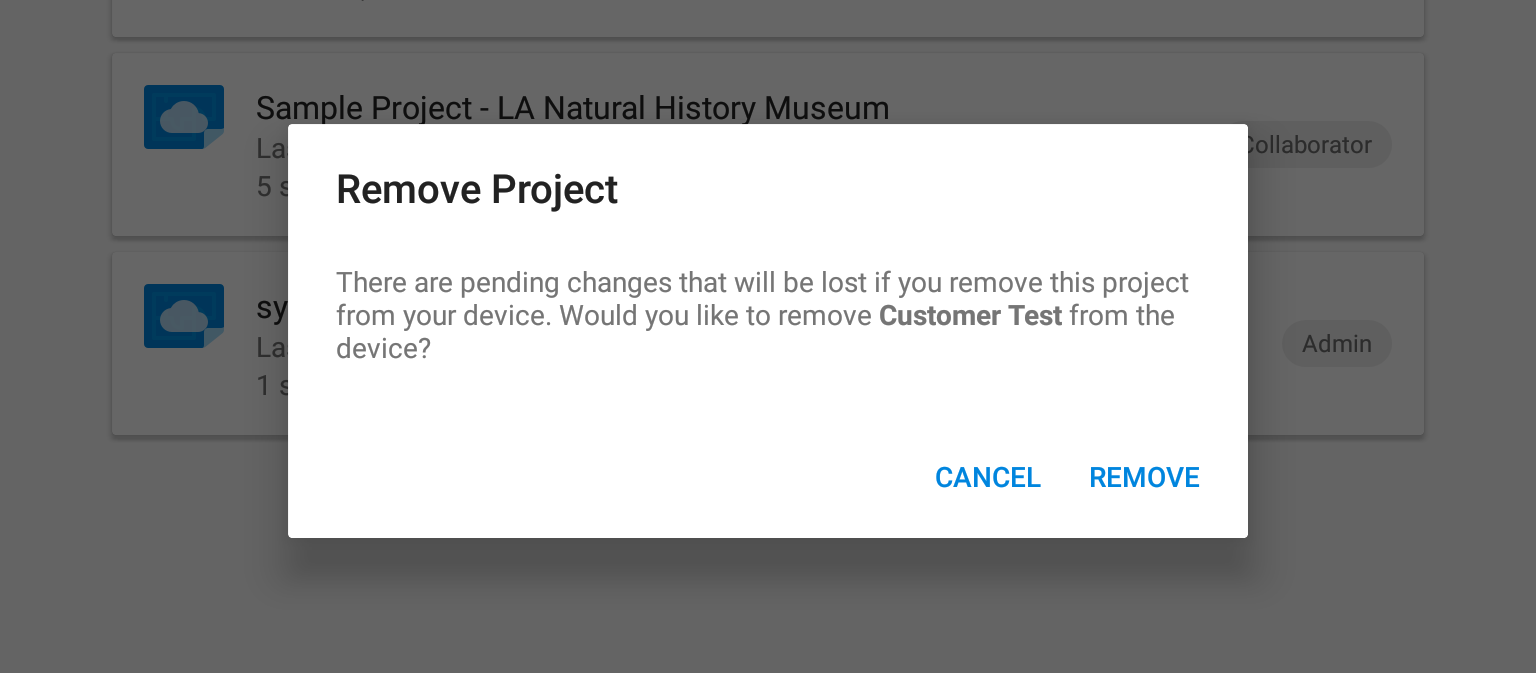 Related Articles: