If you're working on a project that uses PlanGrid, you can be invited by an administrator to create a PlanGrid account. You'll need to activate the license before you can get started using PlanGrid.
Featured:
Activating a License
If an organization administrator invites you to join a project, you'll receive an email that looks like this: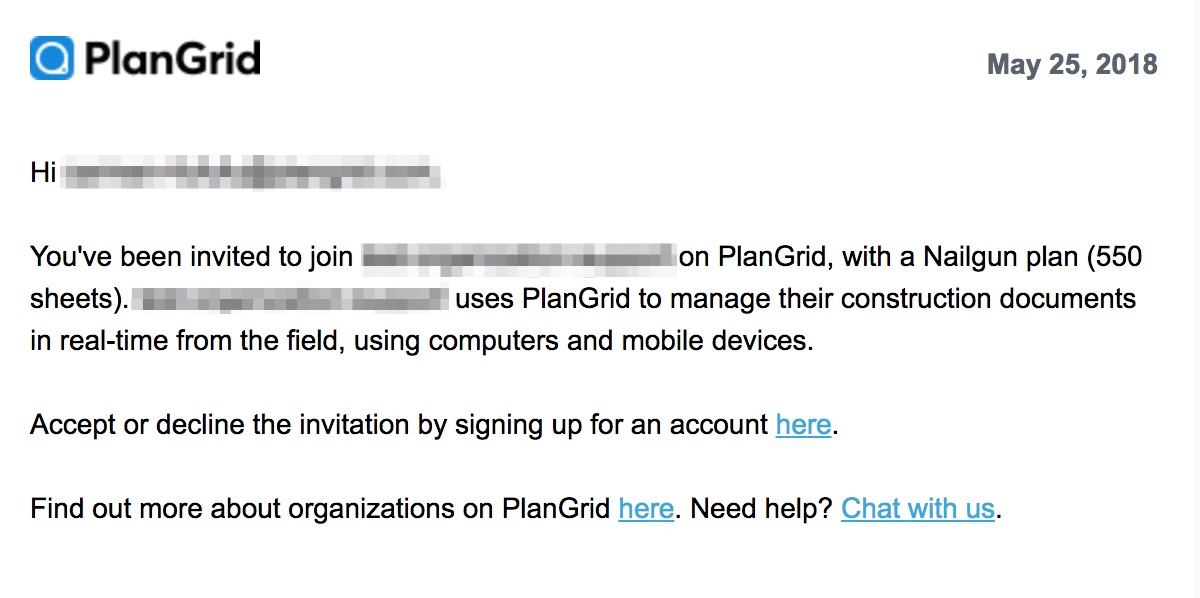 This means that an organization has paid for your subscription and will manage your license. They will be able to upgrade or downgrade your account, or remove the license altogether.
To activate your license, follow these steps:
Click the link in the email you received or log in at app.plangrid.com

If you do not have an active PlanGrid account, you will need to follow the link in the email to sign up; otherwise you can use your existing PlanGrid credentials to log in.

Once you're logged in, you'll be asked to accept or decline the invitation

Agree to the terms and conditions and click "Join," or decline the invitation

Once you've accepted the invitation, you'll see a confirmation in your projects list
Leaving an Organization
If you've joined an organization by invitation, you'll need to ask your organization administrator to remove your account from it.
When you're removed from an organization, you won't have the license associated with the account anymore. To regain access, you can upgrade the account yourself using the PlanGrid website. See How do I Upgrade my PlanGrid Subscription?.
FAQs 
Can I manage my own license once I'm added to an organization?
No. The license you accept belongs to the organization that has invited you. If you're over your sheet limit or need to make any changes to your license, contact the organization administrator.
Why haven't I received an email from the organization that is sending me a license?
Check your email's junk and spam folders. If you're still not finding the invitation, ask your organization's administrator to resend the email.
Please remember, you don't need the email itself to accept the license if you are using an existing PlanGrid account - you can log in directly to app.plangrid.com.
If you need to create a new PlanGrid account, you will need to follow the link from the invite email. 
I logged in, but I'm not seeing the license—what's happening?
Make sure that the email address you're using to log in and the one used to invite you to the organization are exactly the same. If the organization administrator has invited you with an incorrect email address, they can delete the invitation and invite you again using the correct email address.
I'm over my sheet limit—how do I upgrade?
Only your organization administrator can upgrade your license. If you've gone over your sheet limit, remove yourself from projects you no longer need to access or contact your organization administrator to request an upgrade.