Featured:
• I've been Invited to Join an Organization
• Activating My License
• Leaving the Organization
• FAQ
I've been invited to join an Organization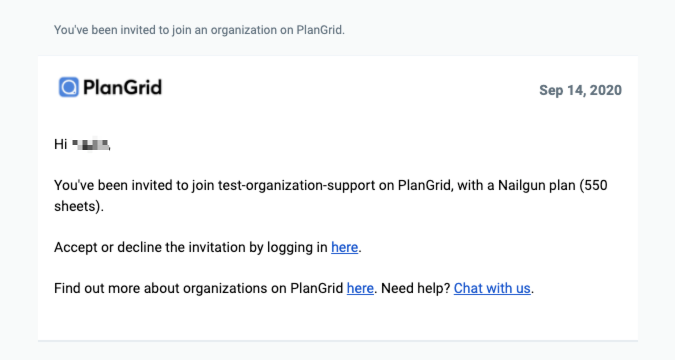 If you've received an email asking you to join an organization (same email as above), this means that a company would like to provide you with a paid subscription license. However, by furnishing your account with a license the organization assumes the right to manage your subscription level moving forward. This will allow the organization to upgrade you to a higher sheet limit, downgrade your account to a lower sheet limit, or remove your license altogether.
Please note: This will not affect your permission levels on individual projects. However, your sheet limit will affect your ability to access your account. If at anytime you go over your sheet limit, please contact the Organization's admin to request an upgrade. For more information on maximizing your sheet limit, go here.
Activating My License
Once you have received the email invitation, you can go ahead and log in or sign up to confirm that license. You can use the link provided in the email, or simply log in or create your account to get started. Please note that invitations can only be accepted via the PlanGrid website (www.PlanGrid.com).
1. To accept the paid license, click the link in the email invitation or log in here.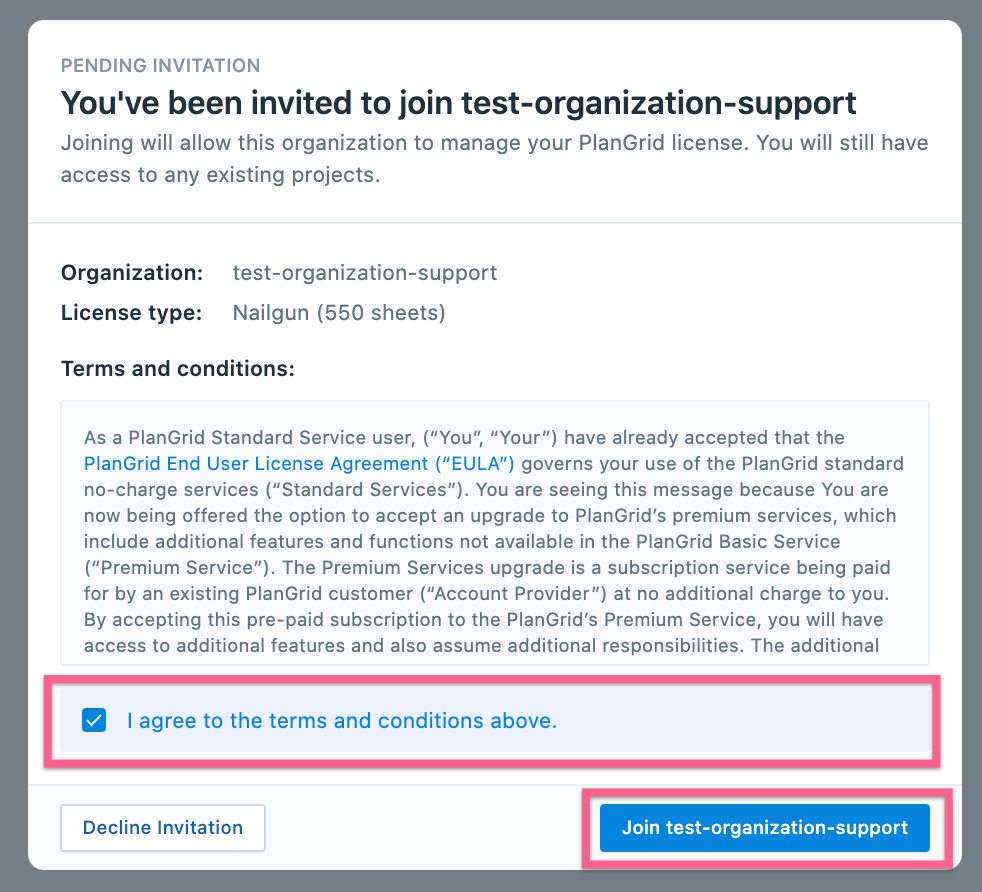 2. If the account that has been invited to the organization is already active in PlanGrid, go ahead and log in on plangrid.com with the same password you use to access your account. If you do not currently have an active PlanGrid account, create your account using the same email that was used to invite you on plangrid.com.
3. Once you have logged in or created your account, you will be asked to accept or decline the license. By accepting the license you give the organization the right to manage your subscription level.
4. Once accepted, you will see a confirmation message in your projects list.

Leaving an Organization
Joining an Organization is entirely optional. However, to leave an organization, you will need to ask your organization admin to remove you from it.
Please be aware: When you are removed from an organization you will forfeit the provided license and your account will immediately be downgraded. To regain access, you can upgrade to a higher sheet limit through the website.
FAQ
Q: Can I manage my own license once added to the organization?
A: No. The license you are accepting belongs to the organization that has invited you. If you are over your sheet limit, or need to make any changes to your license, contact your organization's administrator.
Q: I was told the organization was sending me a license but I have not received an email.
A: Be sure to check your junk and spam folders. If you are still not finding the invitation, ask your organization's administrator to resend the email invitation. Please remember, you do not need the email to access the license. Simply log in or sign up on plangrid.com with the exact same email used to invite you and accept the invitation.
Q: I logged in but I am not seeing the license.
A: Be sure the organization's administrator used your correct email address to add you to their organization. In order to access the license you must be logged into the exact same account that the organization has provisioned. If the administrator has invited an incorrect email, they can delete the invitation and invite your correct email address.
Q: I am over my sheet limit. How do I upgrade?
A: Your subscription and sheet limit can only be managed through the organization by an organization administrator. If you have gone over your sheet limit you can remove yourself from projects you no longer need access to by logging into your account on a web browser (you cannot leave projects via mobile app), or contact your organization's admin and request an upgrade.