To change the language on the website, please follow the directions here.
For your mobile devices, the language must be changed in the device's Settings area.
Below are the following languages supported on all platforms in PlanGrid (Web, iOS, Windows, Android).
Chinese, Traditional
Danish
Dutch
English
English (Australia)
English (Canada)
English (United Kingdom)
English (United States)
Finnish
French
Français (Canada)
Français (France)
German
Deutsch (Deutschland) - Germany
Hungarian
Magyar (Magyarország) - Hungary
Italian
Japanese
Korean
Polish
Portuguese
Português (Brasil)
Português (Portugal)
Romanian
Spanish
Español (Argentina)
Español (Bolivia)
Español (Chile)
Español (Colombia)
Español (Costa Rica)
Español (Ecuador)
Español (El Salvador)
Español (Estados Unidos)
Español (España)
Español (Guatemala)
Español (Honduras)
Español (México)
Español (Nicaragua)
Español (Panamá)
Español (Paraguay)
Español (Perú)
Español (Puerto Rico)
Español (República Dominicana)
Español (Uruguay)
Español (Venezuela)
Swedish
Svenska (Sverige) - Sweden
Thai
ไทย (ประเทศไทย) - Thailand
To change your settings and use the PlanGrid website in another languages:
1. Click on your name in the upper right-hand corner, and click on "Account Settings".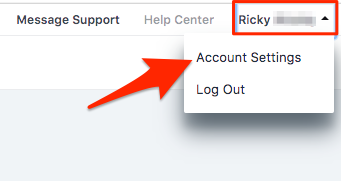 2. Under "Region", click the box to view and select one of the current language options.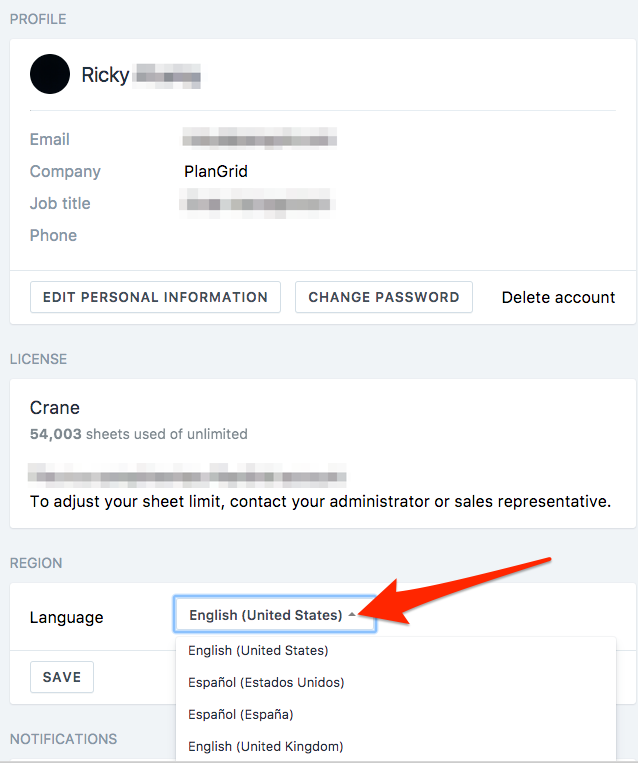 3. Once selected, click "Save".
Related Articles: