It's possible to assign multiple people to complete a submittal, review a submittal package, or watch a package by using groups. Groups allow you to assign multiple people to a stage of the submittal process so that any one of them can complete the step and move the submittal forward.
Anyone belonging to an assigned group has all of the same permissions and notifications as an assigned individual, and any group member can take action on a submittal. Once a member of an assigned group has taken action, they've done so on behalf of the entire group. The submittal will move on to the next step of the process.
Groups is different from parallel reviews for Submittals. With groups, one person completes a step on behalf of everyone. With parallel reviews, all reviewers need to complete the review. For more on parallel reviews, see "Parallel Reviews in Submittals."
Creating a group
To use Groups in Submittals, you first need to create one or more groups from the Team page using PlanGrid for the web.
Navigate to the Team page

Select "Groups"

Select "Create Group"

Enter a name for the group and click "Next"

Select the people you'd like to add to the group and click "Create"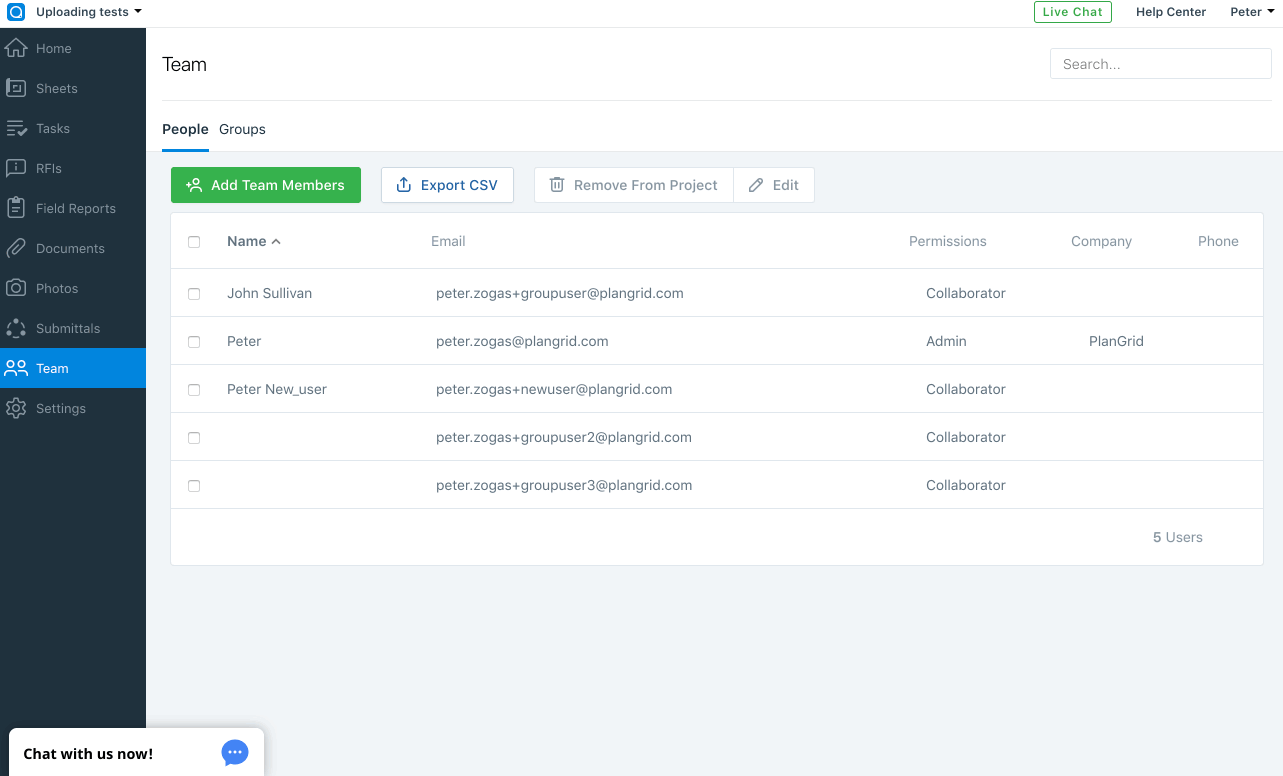 Only people who are members of a project can be assigned to a group in that project.
Assigning groups
A group can be assigned to any submittal role, just like you'd assign an individual user. Below are all the scenarios in which you can assign a group. In all cases, you simply select the group name, which appears along with the number of group members listed in parentheses.
Editing items
When editing an item, groups will appear on the dropdown list for submitters, managers, reviewers, and watchers.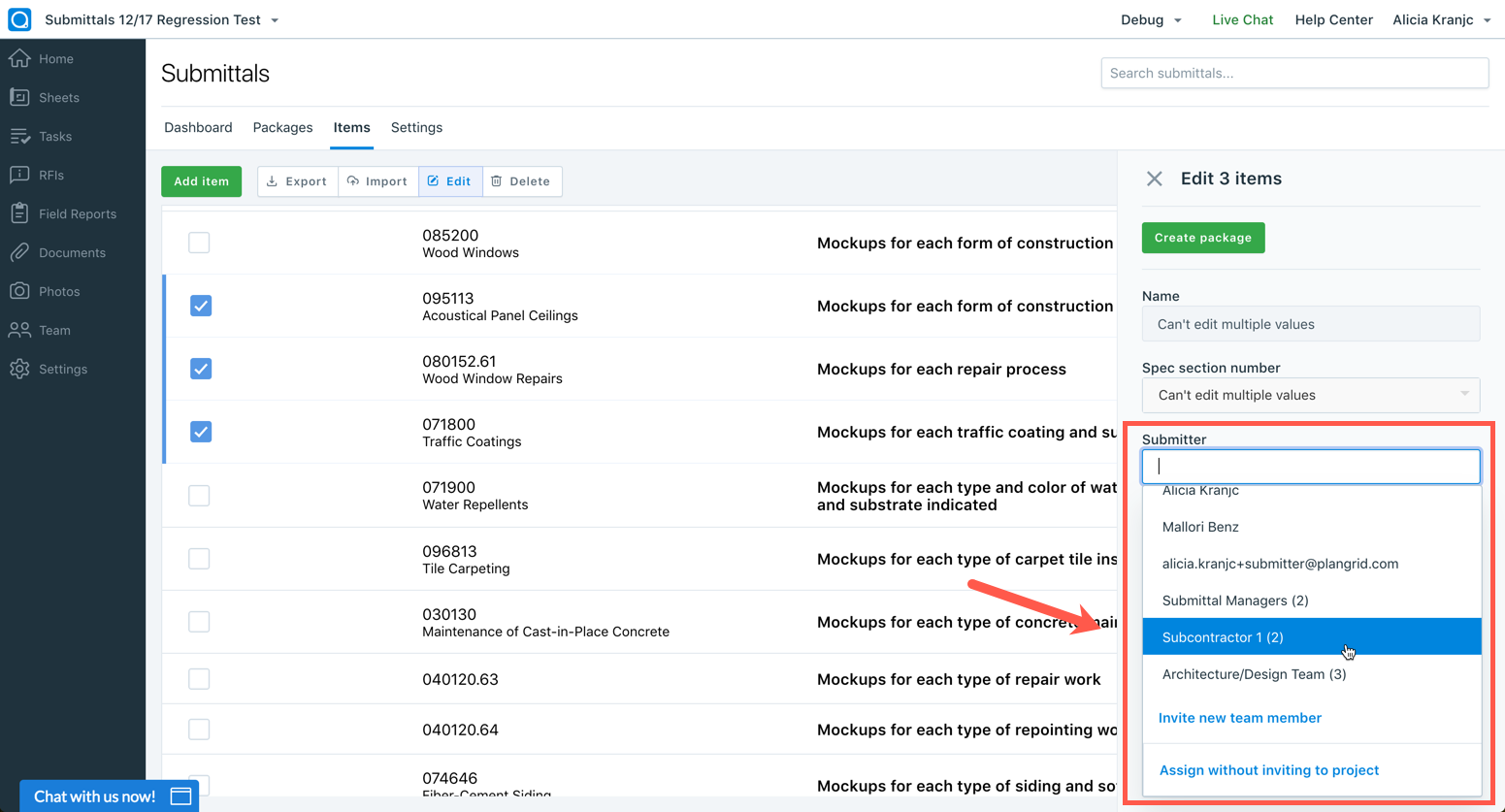 Editing packages
When creating a package, groups can be added as submitters, managers, reviewers, or watchers from the dropdown menus.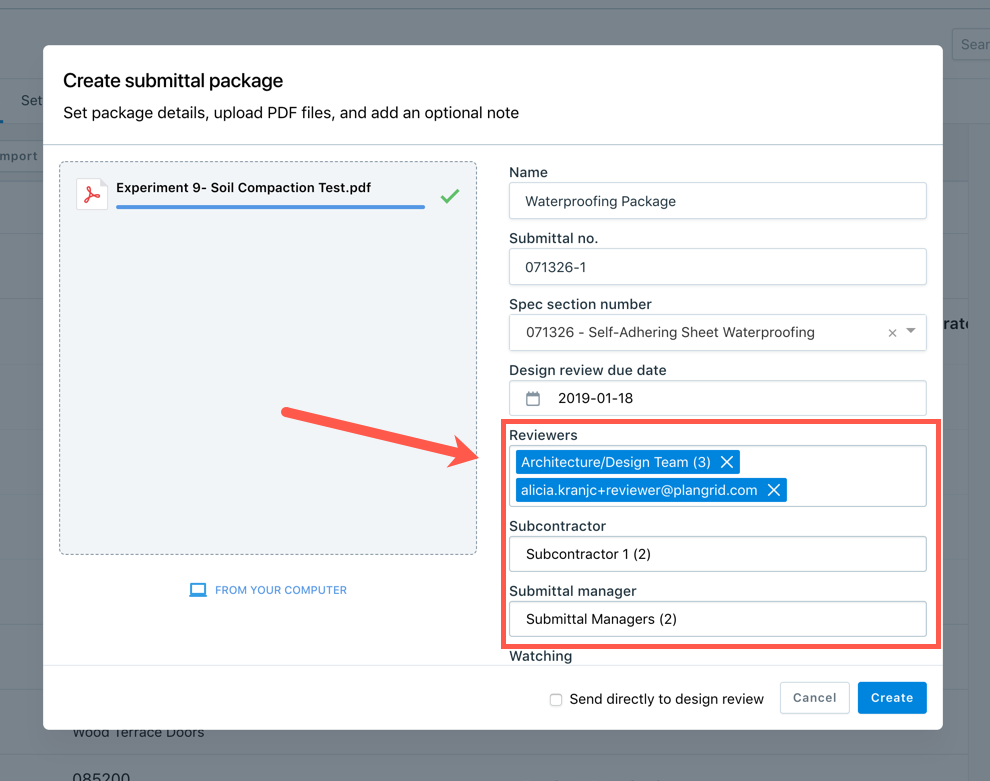 Sending packages for review
When sending a package for review, groups can be assigned as watchers or reviewers.
Reviewing packages
When reviewing packages, groups can be assigned as watchers.
Uploading items spreadsheet
You're able to assign groups to any role when uploading items by spreadsheet by including the group in the assignee column of the spreadsheet you upload. Be sure the group name in the assignee column matches the group name in PlanGrid exactly, including capitalization (don't include the number of group members in parentheses).
You're also able to assign multiple groups to review submittals in parallel. Simply add the group names separated by commas in the "Design Reviewer" assignee field.