What are Field Reports?
Our Field Reports offer your team a way to securely complete, submit, and review any report from within PlanGrid. It is a flexible report management system that allows your team to use your existing forms while streamlining the report completion process to be more convenient, efficient, and manageable.
To start working with Field Reports, you will first need to upload your template PDF form to our website. Don't have a PDF template? Learn how to convert your files to PDF.
To upload your report template:
1. Click on the clipboard icon in the navigation bar to go to 'Field Reports.'
2. Click on "Templates" followed by "Add New" Note: Only Admins and power collaborators have permission to create new report types. Project collaborators cannot create new report types.
3. Choose "Create a New Template" - You also have the option to create a new folder here, if need be. For New Templates, you have the option to uploading your own custom form, or creating a new Daily Report Template.
Note: If you would like to use one of our sample PDF templates, you can download them from our help article, add a company logo, etc. if desired, then upload as a custom form.
4. Once uploaded, you can preview your template, edit the report name and customize additional components (notes and automatic weather reporting).
5. Next, you will assign and give your team members the access they need for that report, as well as enable optional reminder emails. You may add individuals or quickly add a group of team members by project role (ie: Admins, Power Collaborators and/or Collaborators). Learn more about Field Reports permissions.
6. When you're finished, click "Create" to complete setup.
Filling out your reports is easiest in our iOS app. Don't have an iPad or iPhone? Learn how to fill out reports on the web.
1. In Grid View, tap on the filing cabinet icon and select "Field Reports".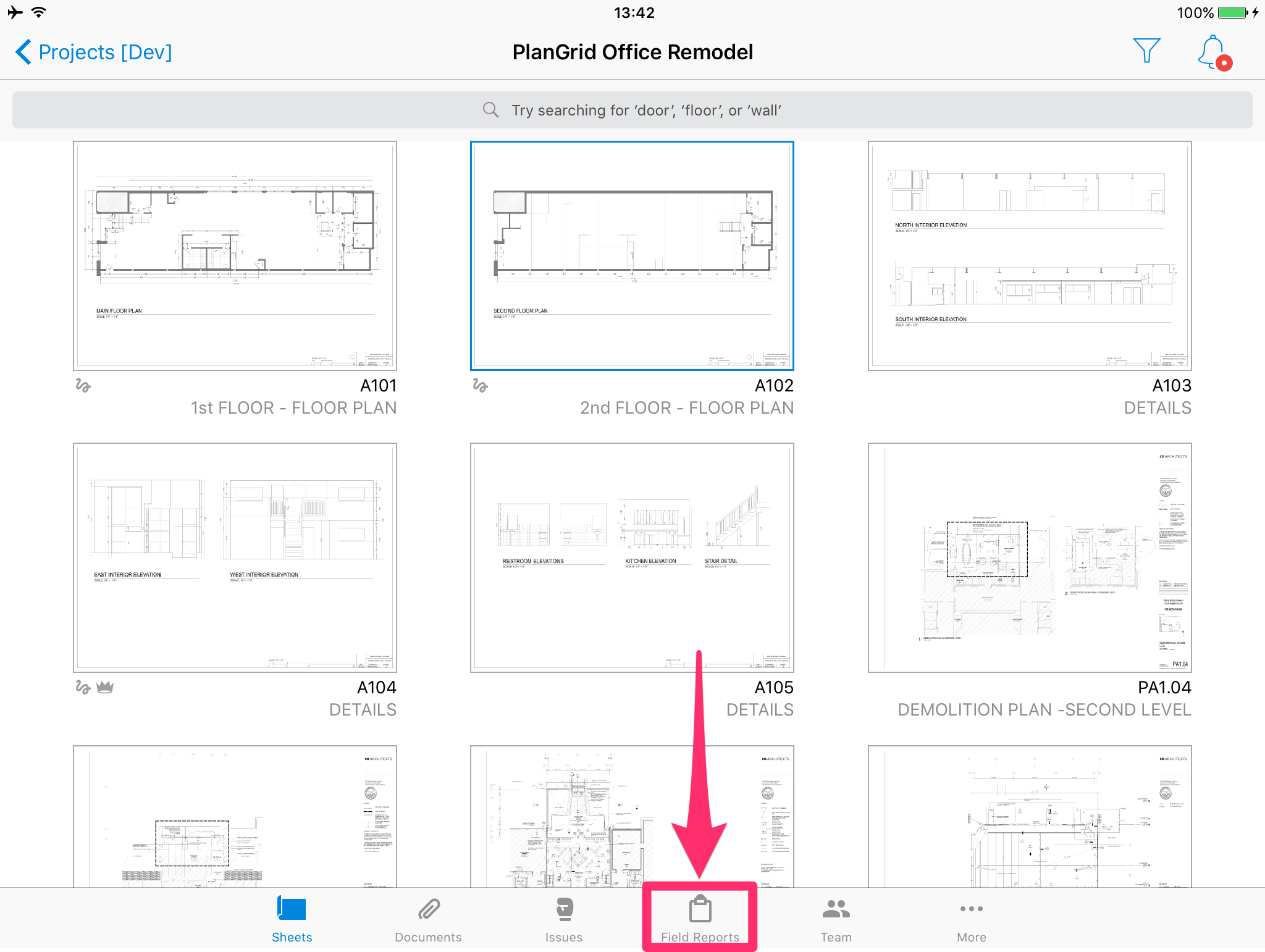 2. To start a new draft, tap on the thumbnail of the report template you want to use. If you want to continue to edit a draft you have already started, tap the title of the report in the list to view your drafts, then select the draft you would like to modify. You can also create a new report from the list.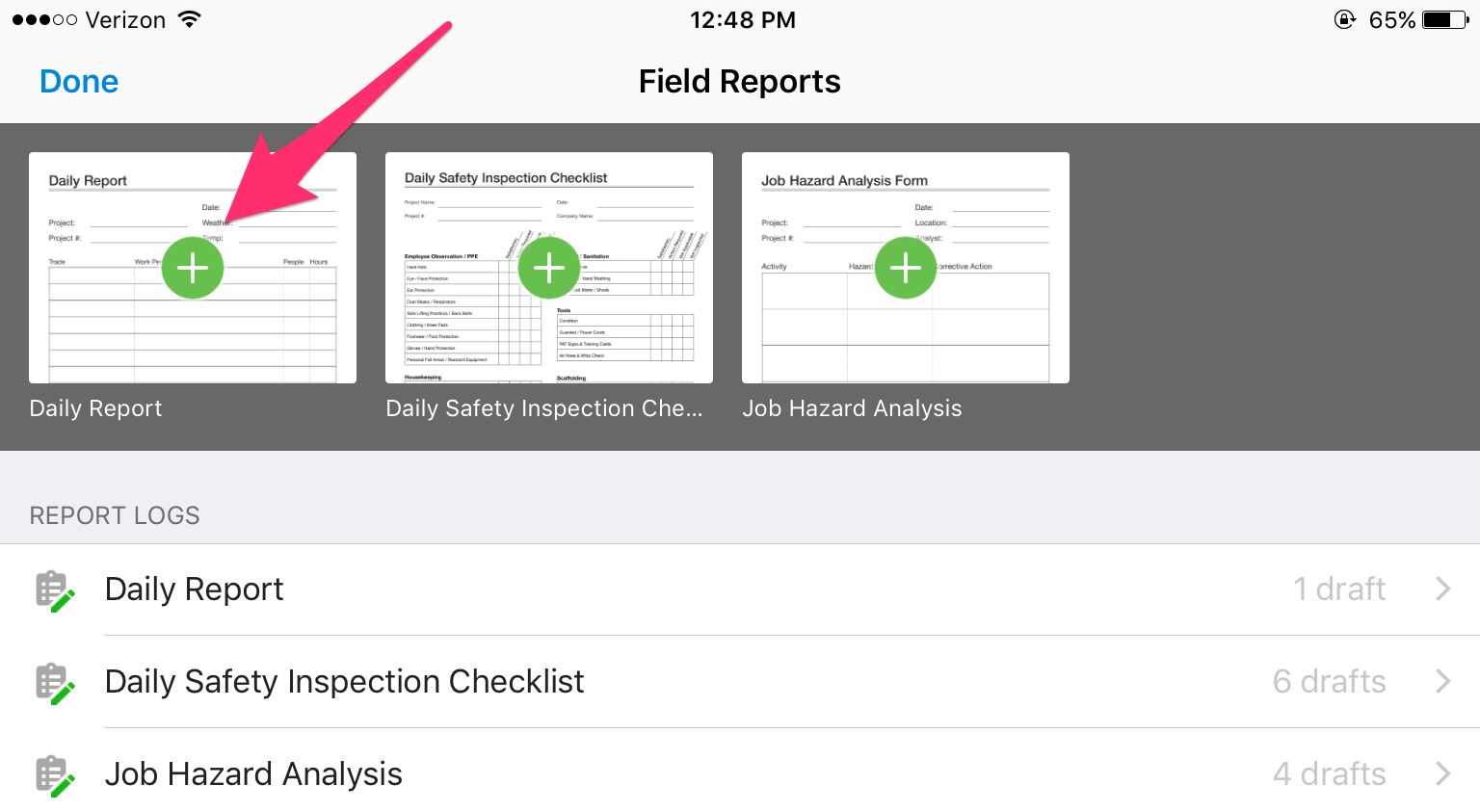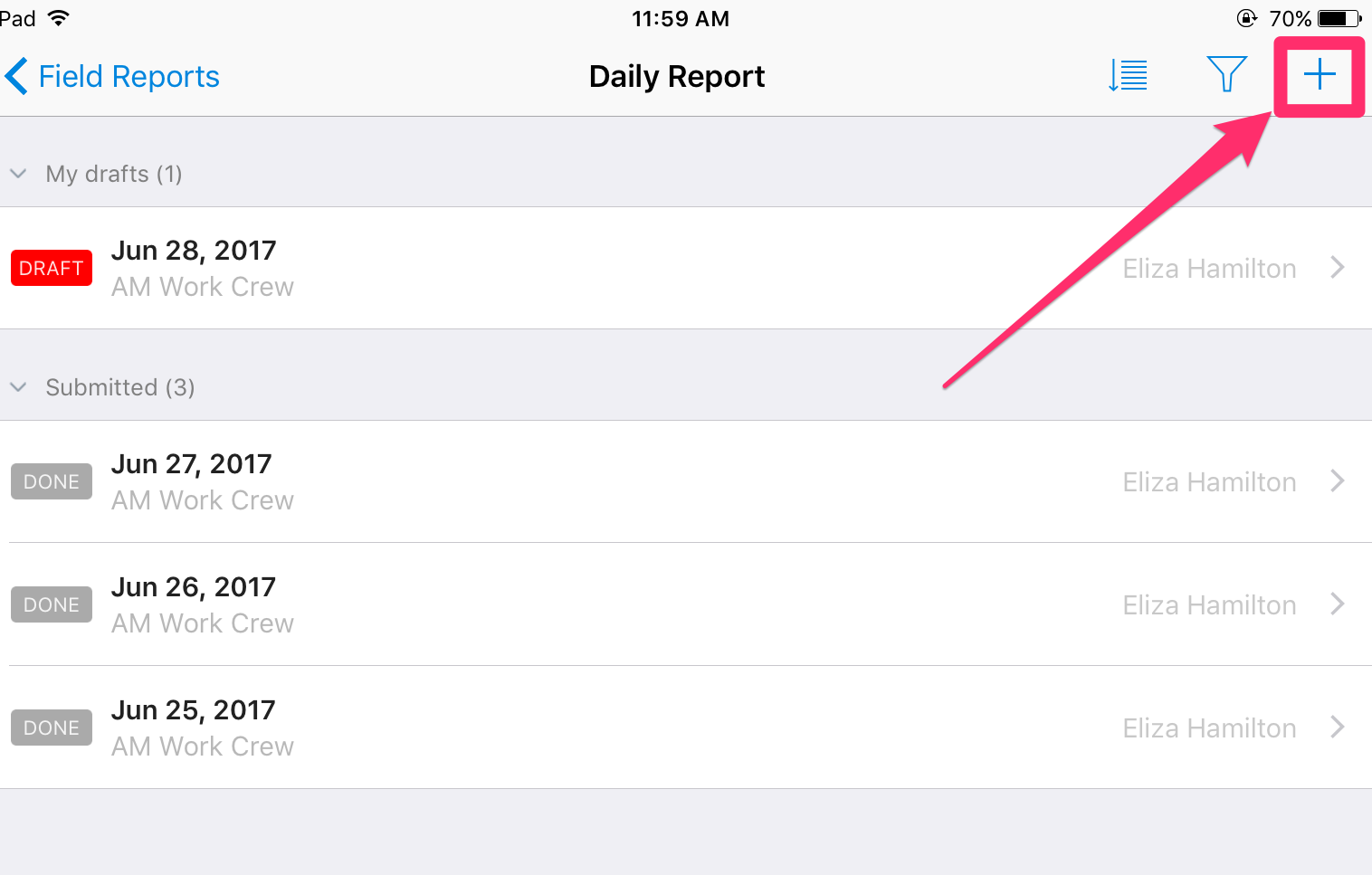 3. Fill out the form. You can tap on a field to interact with it. If you do not have fillable fields in your form, you can tap the pencil icon in the lower right-hand corner to access the annotation toolbar. You can add text, mark up your form with the pen or highlighter tools, etc. Tap "Save" when you are finished.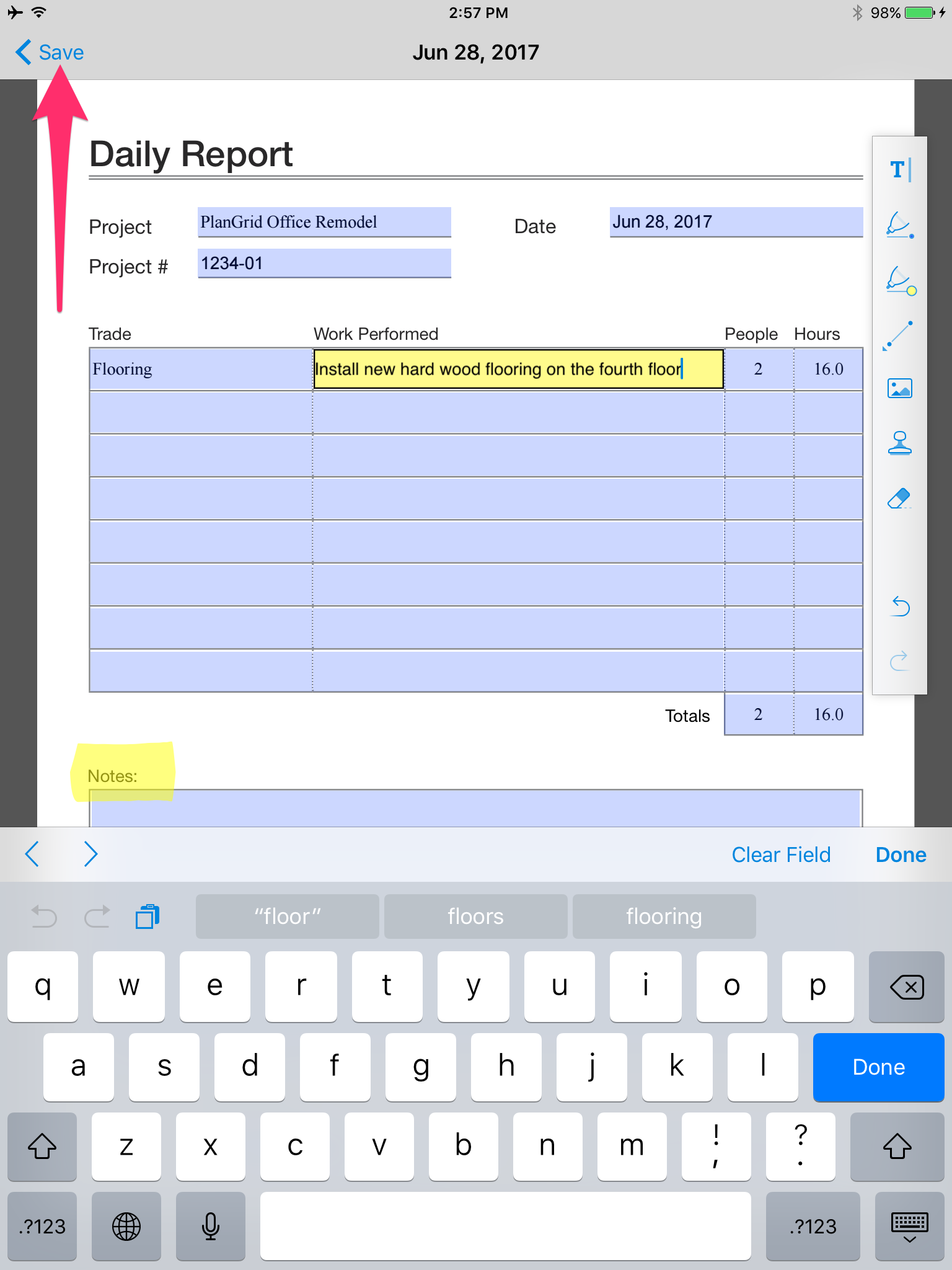 4. On the report details screen you can edit the report date, add a brief description (or title) and attach photos to your report. Tap the "Edit" button to re-open the PDF form at any time.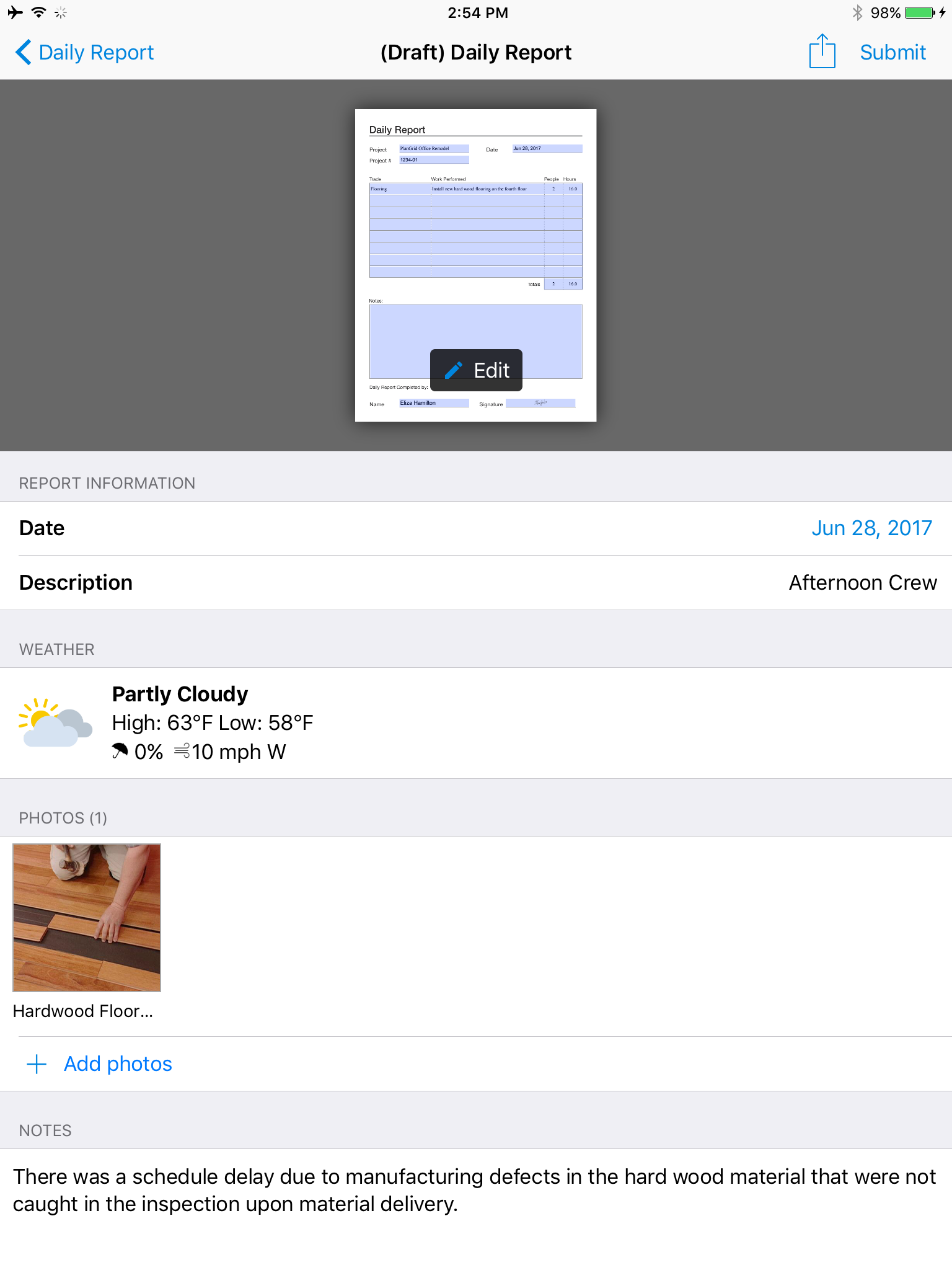 5. Tap "Submit" when you are ready to submit your report.
Note: If you need to make any changes after your report is submitted, please check out our help article for editing a submitted report.